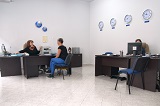 Welcome to
Quick Greek Tours
Simple but valuable ingredients, like our limitless creativity, unquestionable professionalism and thoroughness of detail . But the ingredient that makes a travel unique is definitely the enthusiasm we put into each creation!
Services
We are proud to present the real face of the destination and attract partners and clients who wish to discover the alternative, interesting aspects of Crete. We therefore offer a unique selection of outstanding villas, country houses and traditional guest houses (from rural retreats to beach front grandeur) as well as small exclusive hotels, SPA & Thalasso- therapy centers. We can offer special programs such as cruises and island hopping programs in the Aegean sea, Classical round trips, SPA & wellness holidays, golf holidays, diving holidays, biking-walking trips and much more.
Excursions
A full excursion program set up in all major languages, consisting of excursions for all interests, adjusted to the features of every market. Excursions, boat trips and daily cruises are guided by skilled and experienced guides or escorts and aim to cover every aspect of interest in each region. Apart from the "classical" excursions based on history and natural beauty of the country, we offers our clients the opportunity to discover the samples of the ethnic and tradition inheritance of Crete, through completely tailor made products. Excursions allow clients to participate in local cooking, wine & olive-oil producing and tasting, pottery manufacturing, bread baking, folklore dancing, and much more.